| | |
| --- | --- |
| | What we do |
| | |
Municipal wastewater
Planning and implementation of modernization and enlargement of municipal sewage plants with constructed wetland systems for up to 1000 p.e. NAT has designed one of the largest pond/reed bed system in Germany. It was implemented in 2001 and is cleaning the waste water from a village of 1000 p.e. and storm water from the village in a combined sewer system. The overall size is 1,3 ha, the size of the reed bed is 0,3 ha (3000 m²). The facility is running completely without external energy, using gravity flow, and specially designed hydraulic valves to pump the effluent on top of the surface of the soil filter. N.A.T. has also been doing the maintenance and the monitoring of the facility, including managing such tasks as sludge disposal.
Household wastewater
Implementation of reed bed systems as biological unit of household purification plants:
Systems with/without septic tank.
Horizontal flow systems with/without external energy.
Vertical flow systems with/without external energy.
Group solutions.
Stand alone solutions.
N.A.T. is constantly building and monitoring these systems in Northern Germany and in Denmark.
Agricultural solutions

Conversion of slurry tanks to reed beds

Agriculture has undergone structural change in the last decade or so. Slurry tanks were becoming useless. We have shown, that used concrete slurry tanks can be refitted as vertical system reed beds.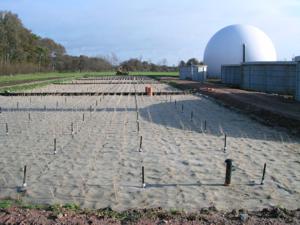 Wastewater from industries
Treatment of reject water from biogas-plants

We have delivered a system for effluent from a biogas plant, that makes firm fertilizers from animal slurry etc. The waste water is "prepared" for the plant. The plant will perform a very low cost way to clean this effluent before it is let to a ditch and to the sea.
[Link: www.biokraft.dk]
Treatment of water from a highway carwash facility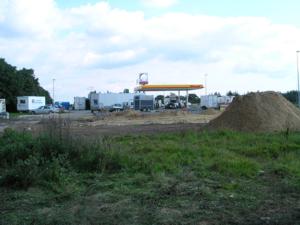 In cooperation with our Danish partner Centre for Recirkulering [www.pilerensning.dk], we have delivered a planted filter to treat and reprocess wastewater deriving from a carwash facility situated at a danish highway. This filter is combining technologies both from willow and from reed bed treatment systems.
Treatment of agricultural wastewater

We have treated water from silo-runoff succesfully in reed beds and willow vegetation filters
Sludge treatment
Planning of systems for sludge treatment by means of reed technology.
Environmental planning
We have more than 20 years of experience in that field. A recent project that we consider significant is the master plan for the build-out of an area of ca. 50 ha in the northsea-side ressort of Büsum. A major problem in a country like Germany is the sealing of natural surfaces by roads, build-out etc., preventing seepage of rainwater into the ground, and causing severe problems with stormwater run-off.
In that project we aimed succesfully at combining areas for recreation and nature conservation with areas for stormwater storage and treatment. 25 ha of the overall area are used for building and 25 ha are converted from agricultural sites to either park, nature reserve or swamp/lagoon.
There was a lot of scepticism af first, because land is a scarce and expensive resource in Germany, but it soon showed, that the number of problems due to stormwater overflow in the city decreased significantly, wildlife proliferates, and residents and visitors enjoy the vicinity of beautiful parks and wilderness.